Before I begin, I'm going to say something... I'm attempting to try a new review style. I'll try a couple reviews like this, so let me know what you think, or give me some advice.
---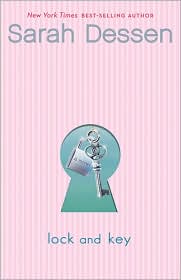 Title-

Lock and Key
Author-

Sarah Dessen
Summary-
(all summaries will come from Amazon unless otherwise stated)




"Ruby, where is your mother?"






Ruby knows that the game is up.




For the past few months, she's been on her own in the yellow house,


managing somehow, knowing that her mother will probably never return.






That's how she comes to live with Cora, the sister she hasn't seen in




ten years, and Cora's husband Jamie, whose down-to-earth demeanor makes




it hard for Ruby to believe he founded the most popular networking Web




site around. A luxurious house, fancy private school, a new wardrobe,




the promise of college and a future—it's a dream come true. So why is




Ruby such a reluctant Cinderella, wary and defensive? And why is Nate,




the genial boy next door with some secrets of his own, unable to accept




the help that Ruby is just learning to give?



Best-selling author Sarah Dessen explores the heart of a gutsy, complex girl
dealing with

unforeseen circumstances and learning to trust again.



Rating-

4/5
Good-
I've been waiting forever for this book. I am a huge fan of Sarah Dessen, have been for many years. When I got it, I could not wait to read it... Now, onto the book. This was a very very deep book. The characters had many layers that made them unique and interesting. None of the major characters fit any typical stereotypes. Lock and Key had a very different plot line that intrigued me from the very first moment I read about it.



Bad-
I find myself running out of good things to say... That doesn't make it a bad book though. It's just that I don't think I'd be able to honestly say that the book wowed me. I wasn't amazed, I didn't feel the need to stay up late in the night to finish it. There's nothing truly awful about the book... but I didn't feel the same connection with it like I did with This Lullaby or Dreamland, my two favorites of hers.